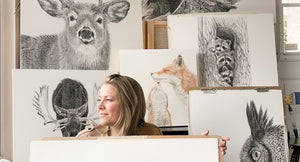 Prints ready to frame
Canvas ready to hang
Charcoal Animal Prints for all Ages
Welcome to a world where your wall art comes to life.
I present you the greatest collection of animal charcoal prints in Canada. Each illustration comes from my original artworks. By choosing a print, you are adopting a companion that comes with its own little personality and great character.
Meet the artist
Hi,
I'm Marie-Michèle Desmarais.  I grew up near a Zoo, where my parents would take me everyday for a morning stroll. My mother would prepare an orange for the elephants 🐘 that would come to meet us because they recognized the stroller from far away.
Today I quit my speech language pathology profession to live of my passion:
Help you to add some life into your nest!
With my charcoals :
I Capture the cuteness 🐼 and the magnificence 🦌 of the animal world.
I Share with you this intimate connexion to nature🌱 .
I give back to earth by planting a tree 🌳 for each print sold and two trees 🌳🌳 by canvas sold.
Radio Canada
«Her house is worthy of a zoo: parrots, giraffe, panda, bears, wolf… a variety of animals go alongside in harmony, on paper!  Her animal
illustrations have carved out a place in many household of the region.  Incursion in her workshop,  baptised with accuracy LE NID, The Nest.» To visit LE NID's workshop click here.
Visit workshop
La presse
Following my collaboration with 5 Canadian Photographers to represent the animals of our forest, La Presse presents my charcoal drawings. To read the article click here.
Read article
Fabrique 1840 - Simons
LE NID atelier is now a part of Fabrique 1840 and La Maison Simons.  Fabrique 1840 is platform that helps you discover smaller business with fresh ideas.   It presents materials and inspirations of Canadian
designers and makers.
View all available animals